Hey! Welcome to one of my favorite life changing services; the Color Confidence Experience done with you, by me, a color certified Style Coach™.
Your Color Confidence Experience Will Show You:
Your Seasonal Color direction: Spring, Summer, Autumn or Winter
Your Tonal Color direction: Light, Deep/Dark, Warm, Cool, Bright or Soft/Muted
Which colors will make you look healthy and radiant
Which colors to keep away from your face at all costs
Your best neutrals 
How to wear black beautifully
The most flattering shades of make-up to wear
Determine which metals look best on you. Gold, silver or rose gold?
Color Confidence Experience
Do you ever get asked "why you look so tired?" even though you are well rested or notice certain colors make you look sick and worn out? This is because you are more likely wearing the "wrong" colors for your hair, skin and & eye color. If you want to wear colors with confidence, determine your "wow" palette, and discover your unique color personality that will forever change you, this is it. Make shopping for makeup, clothes and accessories much simpler with your new skill. If you don't know "your colors", you are missing out!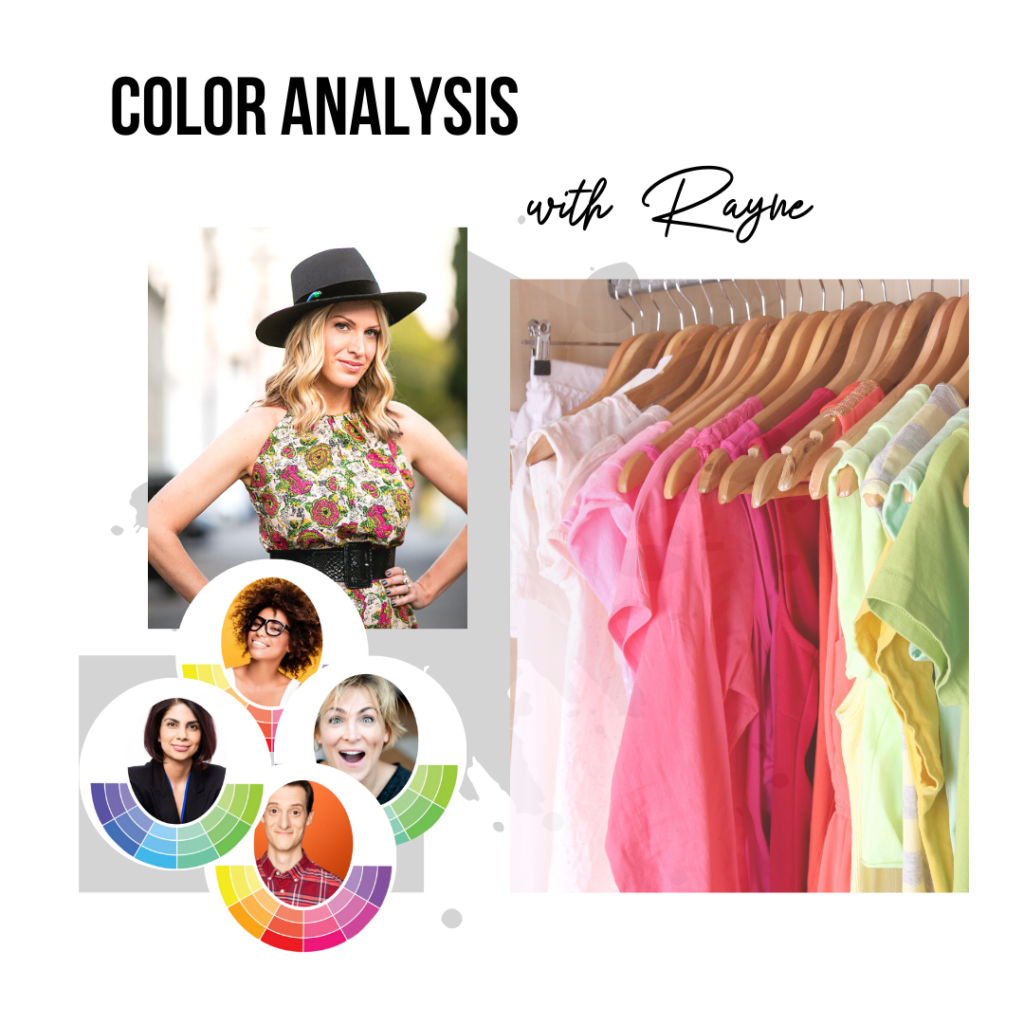 WHO IS THIS FOR?: Anyone who wears too much black and wants to look younger, more vibrant and harmonized. 
WHAT YOU GET:
Virtual Color Consultation: If you're not into Zoom meetings, no worries. We can do this over email too. 
Color Analysis (a 40 page PDF explanation for you to keep)
Color Palette of your "wow" colors
Optional: Digital Shopping: 15 Items(tops, accessories, suits, dresses) to get you started on your Color Confidence journey. You can purchase from the looks or use for reference. 
Most frequent questions and answers
1. This is not a computer-generated analysis. I will personally go over your answers and photos and create a Color Confidence Experience especially for you.
I use an online software that does the same thing as the old-school drapes. Yes!
This is an educational and suggestive service. If you're not into your colors, you can always decide not to wear them! The point is to educate you on what looks best. However, once you see how beautiful and harmonized you look in your palette, they will start to grown on you, resulting in you loving them. 
No. I will do my best to resolve why you're not happy. However, in 10+ years of business, no one has wanted a refund. Boom! 
PHOTO SUBMISSION GUIDELINES:
Before you start, I know these are not going to be flattering. I need to see your skin tone, eye color, iris and hair color. No filters! Send 3-5 photos, with at least two taken real close up:
Looking straight into the camera.
With no make-up on or very light on. Wear a solid color white or off-white shirt. A sheet draped or piece of paper covering up below your chin works too.
Good lighting. The best way to do this is to face a open sunlight window. Then, take the photo. Your face should be facing the window, not direct sunlight.
Make sure there are no shadows by your eyes or on your face.
Additionally, if you have any clear photos of you in daylight out and about, send those too. If you recently had a professional photo shoot with an amazing camera and are wearing light natural make-up, that can work. Basically, as much info as I have on your unique coloring the better. Don't worry about cropping them close up I can do that!
Below are some typical types of photos I get and whether they are good or not and why.
Photos should resemble these: